Sure, you may recognize our reusable handles on the six-pack 12-oz regular or the quad-pack 16-oz craft beer found in grocery stores, dock sales, and even in build-your-own beer coolers. You've probably found it easy to simply remove from the cans as it is to pop one of our handles on an empty can when you pack up from a picnic.
But PakTech is known for more than producing convenient beer carriers. For over three decades we've been designing and manufacturing 100% recyclable, colorful, injection-molded handles made from 100% recycled HDPE into premium secondary packaging products for the food, beverage, health, and consumer goods industries. Our customers include club stores, leading brands, and craft manufacturers of all types.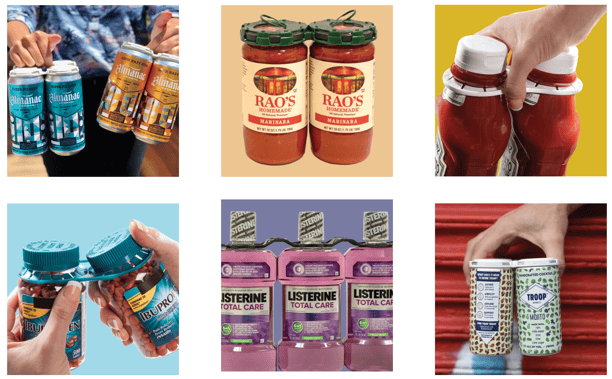 Beyond canned beverages, a few examples of our durable and comfortable-to-carry handles can be found on TwinPaks of large apple juice jugs, 3-pack glass jars of pasta sauce, 8-packs of bottled water, and detachable KLIP handles for bundling two spray bottles of household cleaner. In addition to our wide array of readily available products are custom-solution handles for our customers' unique packaging needs - from concept to production ready in as little as 8 weeks.
Looking for a cost-effective, dependable application system that's more than just an automated packaging machine? We engineer and install a diverse line of reliable, field-tested applicators with minimalist design and small footprints. We deliver on time and provide 24/7 support with financing available.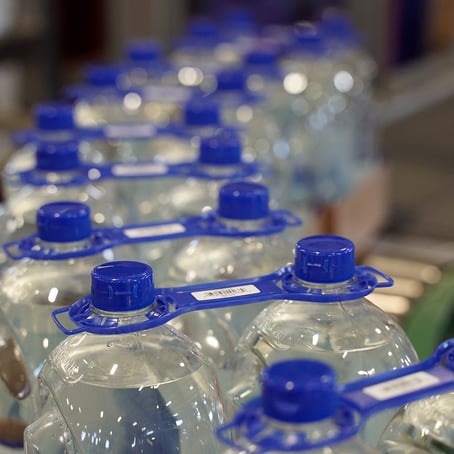 PakTech continues to introduce simple, safe, and smart products to meet our customers' expanding packaging needs and we are well-positioned to endure as a high-performing, environmentally conscious business because we are:
Sustainable – We believe our manufacturing process is the key to a brighter, more sustainable future starting with our 100% recycled handles that can be 100% recycled. PakTech has created over 550 recycling partnership programs that involve hundreds of grocery stores, breweries, markets, and recycling centers to collect and properly process PakTech products. Locally to date, over 13,200 pounds of recycled handles have been collected and repurposed into new handles, while others are recycled into composite lumber, flower pots, and park benches. And our efforts have been noticed: PakTech was awarded 2021's Sustainability Product of the Year by the Business Intelligence Group.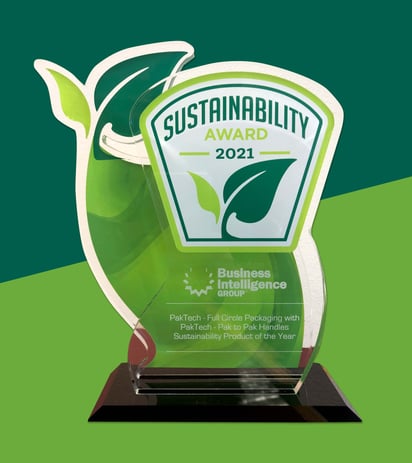 Flexible – PakTech handles can be applied by hand for small-scale investment and are compatible with our full line of automation equipment. Our applicator systems are scalable to any size of packing operation and any requested line speed or run rate. Whether it's beverage handles fitted to standard, sleek or crowler-sized cans, TwinPaks sturdy enough for two gallons of milk, or MultiPak handles for any shape container you could think of, our applicators are built to continuously run a variety of configurations so you can package with confidence.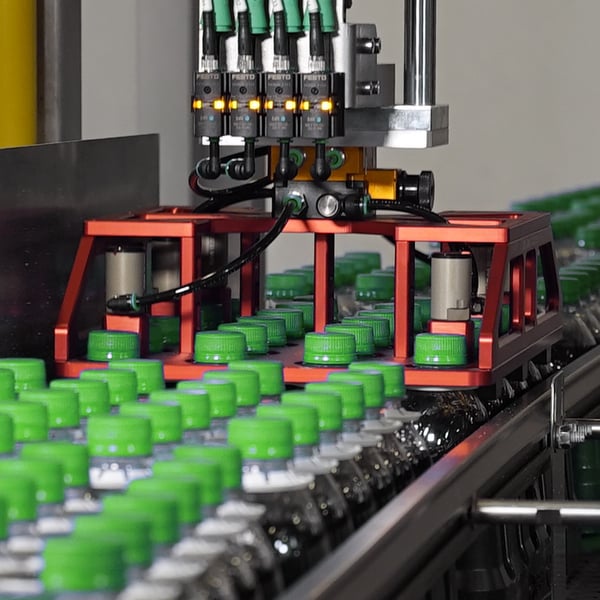 Accountable - PakTech considers a holistic view from acquiring resin to our suppliers' work ethics and facility practices. We look beyond the traditional aspects of cost and quality and consider labor rights, social, and environmental issues when sourcing raw material. PakTech's Supplier Code of Conduct sets expectations for anyone supplying raw material to us to comply with all applicable laws and regulations, and we require our suppliers to certify their material through a third party. PakTech cares deeply about the health of our planet and monitors all parts of our operations to make optimal use of the resources we consume while reducing emissions and waste. When selecting the materials that go into our products and packaging, we carefully consider how these choices affect every step of the process, from our suppliers to our partners and our employees.
PakTech is on board to meet rapidly increasing sustainable packaging opportunities by being a conscientious, full-service, recyclable packaging company serving the food, beverage, health, and consumer goods industries. Over 1,000 handle options, custom handle capabilities and a variety of applicator choices are produced by our environmentally sound processes with our dedication to help safeguard our planet now and for generations to come. And that's why we've become an industry leader in sustainable carriers.
We don't just handle beer; we have a handle on the future of sustainable packaging.