With products made sustainably from 100% recycled material — which are finding new uses in new markets throughout the world — we here at PakTech can't be blamed for looking excitedly toward the future. Because from where we sit, the future sure looks bright!

Many people aren't aware of PakTech's commitment to sustainability and of the many millions of recycled milk jugs that find a second life as our packaging handles. When recycled a third life as planter pots, park benches or new PakTech handles. They don't know about the endless potential for PakTech products in the beverage and food industries, and far beyond.

See, there's a lot of people who just don't know about the capabilities and variety of PakTech's packaging handles along with our sustainability programs. This is why we've begun this beautiful blog to keep you all up-to-date — not to mention how you and your business can be part of this fantastic future!
Once a month or so, we'll bring you news and useful information about packaging, industry trends, sustainability and PakTech related topics — how PakTech can work for your business, for example, or about the new kinds of beverages and food that are sporting our handles these days (hint: it's not just about craft beer).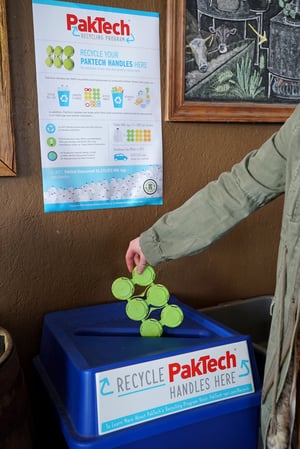 We're proud to offer solutions for multiple packaging, thrilled to tell you about our recently launched recycling program and excited to share so much more!
And all you have to do is stay tuned (and maybe recommend us to a friend)!