Breweries Committed to Sustainable Practices
Find an Ally in PakTech
As producers who often enjoy a close relationship with their customers, breweries worldwide have a unique opportunity to take the lead in adopting sustainable practices, and many have already answered that call.
In fact, some breweries such as Portland, Oregon's Hopworks Urban Brewery (HUB) place sustainability at the core of all their business practices. As a Certified B Corporation, Hopworks is legally obligated to balance its purpose and profits to meet the highest standards of social and environmental performance.
"As a B Corp, we have a great framework to identify and prioritize projects that have positive social and environmental impacts," says HUB founder and brewmaster Christian Ettinger. "We pass all operational decisions through this lens. If the return on investment is there, we will go for it."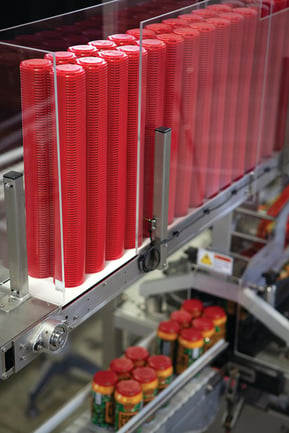 Of course, achieving such high standards means more than just a bit of reuse, reduction in new materials used, or recycling. It requires a complete examination of everything a brewery does, at every link in its supply chain. Only then can it gain the ability to continue its practices indefinitely in a way that ensures the protection of valuable natural resources, a positive contribution to social justice, and the well-being of all. This is true sustainability.
Such commitments can often entail sacrifices for the greater good through time, patience, and fortitude. However, sustainability need not necessitate the compromise of the performance and quality of products and practices.
Ettinger says Hopworks naturally seeks to partner with businesses that share its value system. With regard to one link in its supply chain – the maker of 4- and 6-pack holders – he describes the decision as a "no-brainer."
Eugene, Oregon-based PakTech manufactures the 4- and 6-pack handles currently in use by many of the world's breweries, wineries, cideries and other beverage makers. To state that PakTech shares HUB's commitment to sustainability would be putting it mildly.
---
"PakTech believes that sustainable behavior is absolutely required to preserve and maintain our quality and diversity of life and the Earth's ecosystems on which it depends," PakTech president Jim Borg says. "By incorporating maximum sustainability into our work culture, business practices and products, we strive to fulfill our collective responsibility in protecting our environment and enhancing social and economic aspects of society. It's the right thing to do."
---
To walk the walk of sustainability, PakTech has become a worldwide leader in the innovation of 100% recycled and recyclable injection molded packaging handles. In 2012, the company began producing multi-pack handles that use 100% recycled post-consumer HDPE (High Density Polyethylene), a material that maintains the integrity and high performance of PakTech handles. Hopworks began using these handles soon after and hasn't looked back.
Since then, PakTech has repurposed the equivalent of 400 million recycled milk jugs, keeping roughly 55 million lbs. of plastic out of landfills and waterways and saving 22 acres of land from landfill waste. Further, agreements with more than 250 businesses have led to the establishment of recycling sites dedicated to repurposing these handles and ensuring that they can have a third life as park benches, planter pots or even new handles.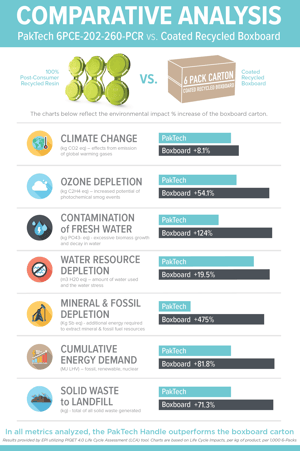 A recent comparative analysis found that PakTech handles score higher with regard to every aspect of sustainability than coated recycled boxboard, another common material used in 6-pack cartons. These scores reflect a lesser impact with regard to climate change, ozone depletion, the contamination of fresh water, resource depletion and the addition of materials to landfills. According to the study, all numbers point to a "lower environmental impact than the boxboard system in all life-cycle metrics evaluated."
However, the impact of PakTech handles on their environment means little if they are unable to perform the task for which they were created. As such, the company has endeavored to create a handle that is stronger, easier to carry, more hygienic and aesthetically pleasing.
"Paktech consistently performs great in a variety of conditions," Ettinger says. "They keep the critical
can-top clean and protected and can accept a sticker for additional branding on the top of the carrier. I like that they allow the great can art to show proudly."
The ability for customers to recycle their handles at more than 300 recycling collection centers (and counting) also creates a sense of cooperation and teamwork between customer and brewer. It's an ideal outcome because we know it's going to take the commitment of each and every one of us to ensure the prosperity of our future.