Smart, Sustainable and Simple – We Are Plastic but Not as You Know It
Supermarket chains in the UK continue to face enormous pressure from both consumers and public authorities to adopt sustainable packaging solutions. While documentaries such as BBC's Blue Planet II or the tv program War on Plastic have led to widespread public consciousness on the deleterious effects of plastic pollution on the environment, regulations like the UK Plastic Packaging tax (to be in effect by April 2022) are incentivizing UK value-chain actors to phase out the production of virgin plastic packaging.
Major UK retailers and brand-owners have also pledged their own sustainability commitments by signing the UK Plastic Pact which aims to bring fundamental change in the way plastics are designed, produced and used to support the transition to a circular economy. Along with these developments, the widespread concern over plastic pollution has led to an indiscriminately negative perception of all plastic packaging despite the material's practical advantages. The backlash against all things plastic is the most palpable in the social media sphere which at times has prompted brands like Sainsbury's to respond to users by distinguishing between virgin plastic versus recycled plastic or by pointing out that paper bags leave a bigger carbon footprint than plastic bags.
---
Hi Ciara, we've implemented measures that are leading to a reduction of over 10,000 tonnes of non-recyclable plastic and "virgin plastic" every year. This is in addition to our commitments to ensure all plastic packaging is reusable, recyclable or compostable by 2025. Ewan

— Sainsbury's (@sainsburys) February 2, 2020
---
But what if it is possible to reconcile both ambitious sustainability goals and the practical needs of businesses? Here at PakTech, this is a reality.


What Makes PakTech Solutions Sustainable


PakTech handles are made of plastic but not as you know it:


PakTech handles are made of 100% recycled HDPE material like used milk jugs, juice bottles and similar containers, making them second-life products. This means that circular economy is not a mere guiding principle but truly underpins the whole ecosystem of PakTech packaging solutions.




PakTech handles are infinitely recyclable thanks to the type of plastic used, HDPE, which we believe to be the most durable and sustainable plastic material. Once recycled, PakTech handles can be repurposed into various items such as benches, flower pots, pipes or even new PakTech handles.
As PakTech handles are made of recycled HDPE, they greatly reduce environmental impacts compared to using virgin plastic by using 90% less energy and 100% less petroleum. In addition, by using recycled HDPE sourced primarily from used milk jugs, we have kept 451,883,179 milk jugs out of landfills, equivalent to over 27 million kgs of plastic waste.




Indeed, sustainability and circularity are at the cornerstone of our business and informs all actions taken by our company across the board.


---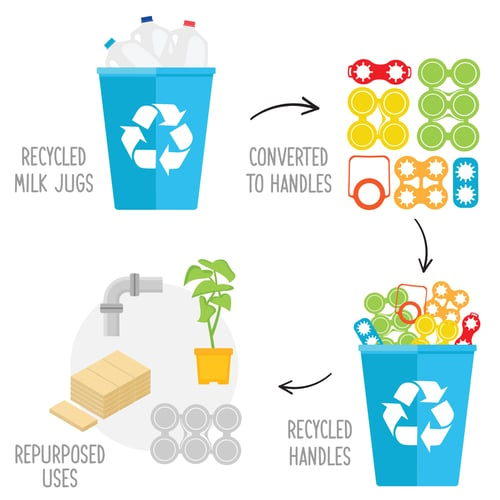 ---
PakTech outperforms Alternative Plastic Packaging Solutions


While the consumer demand for sustainable solutions have made alternative packaging solutions attractive, not everyone is aware of each material's environmental impact. Take packaging made of bio-degradable or compostable plastic for instance. Contrary to popular belief, such material does not breakdown in your home compost pile or breakdown in garbage dumps or landfill. In order to break them down, they must be treated at industrial facility heat and in the UK, most of which ends up being processed as general waste. Besides, bio-degradable packaging is not cost-effective like PakTech handles.
At PakTech, we know that achieving ambitious environmental goals require a holistic approach. That's why our packaging solutions outperform alternatives in the market when it comes to sustainability by putting in place an ecosystem that considers all aspects of environmental protection.
PakTech: We Can Help You Meet Your Sustainability Goals


In the business for more than 25 years, we understand both the packaging challenges that UK retailers and brands face and the pressure to be sustainable in all their business actions. We can help UK businesses eager to reduce their carbon footprint and transition to a circular model while also meeting their practical and business needs. Our HDPE solutions are fit to be processed by the UK's current waste management and treatment infrastructure as 92% of UK councils collect HDPE bottles making PakTech solutions perfectly aligned with UK's vision of transitioning into a circular economy.
Besides our sustainability credentials, UK businesses have other reasons to choose PakTech handles. While remaining committed to sustainability, businesses do not have to compromise on the practical advantages of plastic such as light-weight, water-resistance, durability and usability. The handles are also reusable so retailers can minimize their SKU shrinkage from damage while consumers can use the handles many times before they are returned to the recycling system.
UK's environmentally-conscious consumers care about the packaging they consume and are eager to buy from brands who they know to be aligned with their own environment goals. With PakTech's sustainability credentials, UK consumers will be confident in choosing brands who use PakTech solutions.