In a world where environmental consciousness is no longer a choice, but a necessity, it's crucial for manufacturers and consumers alike to make decisions that align with the goal of a sustainable future. One key area where this choice makes a considerable difference is product packaging. PakTech's recent Sphera Life Cycle Analysis study evaluating the environmental impact of secondary packaging options shines a light on a packaging solution with the lowest carbon footprint: PakTech's 100% recycled HDPE handles.
A Green Solution in Secondary Packaging
Life Cycle Assessment (LCA) is a powerful tool that helps in understanding the environmental impacts associated with all stages of a product's life, from cradle to grave. According to a recent LCA study conducted as per ISO 14044, PakTech's rHDPE (recycled High-Density Polyethylene) handles, used as beverage and food secondary packaging, outperform traditional paperboard packaging on multiple environmental fronts.
The comprehensive study took into consideration various stages of both recycled plastic and paperboard production such as the procurement of recycled HDPE pellets, handle production, forestry management and logging for paperboard, paperboard production and conversion into finished packaging, distribution, filling, end-of-life disposal, and transport at each stage.

Leading the Way: PakTech's 100% Recycled Handles Outperform Paperboard Packaging
The PakTech 100% recycled HDPE handles emerged as the most environmentally friendly packaging option due to two main factors: material mass and recycled content.
These handles are the lightest packaging option currently available. Lighter packaging means fewer materials used and reduced emissions during transport, significantly lowering the product's carbon footprint.
But the winning factor is the use of 100% recycled content. By utilizing recycled materials, PakTech not only reduces the demand for new plastic production but also contributes to a circular economy model. This approach significantly reduces waste and conserves resources, ticking all the right boxes for sustainability.


---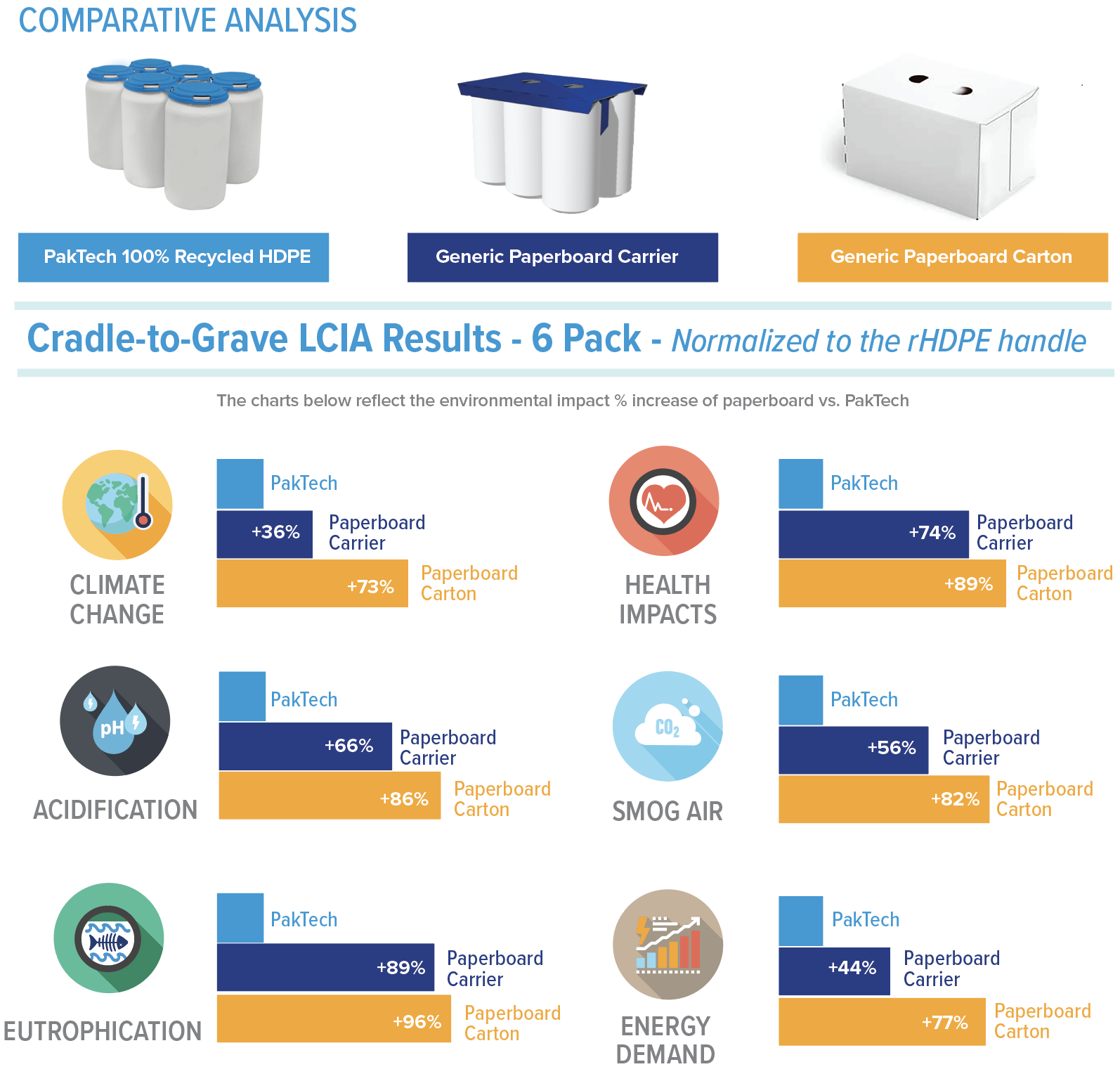 ---
The Climate Change Impact
One of the most significant global challenges today is climate change, and every industry has a role to play in mitigating its impacts. The study shows that the PakTech rHDPE handles are associated with the lowest climate change impact compared to paperboard cartons or carriers.
Switching from paperboard packaging to PakTech's rHDPE handles would considerably decrease the potential environmental impacts of beverage can packaging.


---




---
A Step Towards a Greener Future
The LCA study's results make a compelling case for beverage manufacturers to switch from paperboard cartons or carriers to PakTech's rHDPE handles. This change not only supports sustainability efforts but also sends a powerful message to consumers about the company's commitment to environmental responsibility.
In conclusion, the PakTech rHDPE beverage handles demonstrate a compelling balance of functionality and environmental responsibility, proving that innovative thinking and commitment to sustainability can create solutions that benefit us all.