Why Dear Mom Wine Chose Cans & PakTech
When it comes to packaging wine, Robert Karmin has never been one to take the common path. Informed by his experience as a wholesaler and bar owner, each of his ventures has involved innovations in packaging. First was Coopers Hall, a winery dedicated to keg production—the first of its kind in Oregon. Now Robert's full attention is on Dear Mom Wine, founded in 2017 with the goal of delivering high-quality Oregon wine in elegant single-serving cans.
We spoke to Robert this past week about why they decided to package in cans. "We wanted to do 187 mL cans because they're really great single serving glasses of wine," said Robert. "They're great to take to your house and drink in the back yard, but they're also great for bars and cafes and music venues."
It's this respect for the needs of both retail consumers and service industry workers that has informed Dear Mom's decisions around packaging. Originally their four-packs came in paperboard cartons. This worked fine for retail, but customers in the service industry had a different experience.
"A lot of my friends who are bartenders and who work counter service at cafes and sandwich shops that serve our wines were just like. "Oh, these beautiful boxes that you're putting them in, we don't even use them, we just throw them away right away,"' Robert said, when asked about the switch to PakTech can carriers. "And they [the paperboard boxes] weren't cheap to make, and they also took the bartenders more time to unpack, so I think the convenience for service in the on-premise context is great."
There was another advantage to multi-paks that Robert and his partner Jonathan Canter really valued. "We also think, in the retail context when the four-packs are displayed, that any benefit we would have from using a carton in terms of square footage for branding, we felt that now we get the benefit of people seeing our cans."
---

Packaging efficiency and cost effectiveness were also major factors in their decision to move away from paperboard.
"We switched to using PakTech last year because . . . we found that we were primarily, over 50% for sure, in the on-premise venues and that the residual benefit of having the cartons didn't outweigh the convenience and cost-effectiveness and packaging efficiency that we would be able to get in the snap on four-packs."


---
The response to Dear Mom Wine in cans and PakTech carriers has been positive. After launching only three years ago in the summer of 2017, their locally-produced Oregon wine is available in 23 states as of early 2020. This story also holds a hopeful note for companies who have considered PakTech before but didn't find the form factor they were looking for.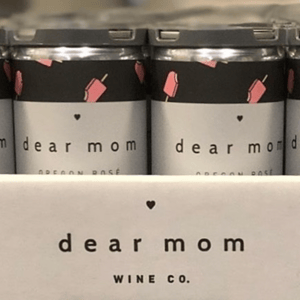 "I had been keeping track of PakTech for several years," said Robert, "and the company initially only had larger diameter four-packs available, and then PakTech released the slimline four-packs and made it possible for us to use the product."
Whether your company is packaging in cans, bottles, or another form factor, PakTech has released several new handles over the years to suit different packaging needs. And if you don't see the size you're looking for - We can make it. Visit our custom handle form so we can begin a dialog on how PakTech can best serve your needs.
When asked for any final thoughts about wine and packaging, Robert was modest. "For different styles of packaging, you know, I'm not a packaging expert!" he said with a laugh. But on the subject of cans, he added a few last thoughts.
"I definitely think more cans. The growth in the can market of wine has been huge for the last 2-3 years since we've started, the number of brands has grown 10-fold certainly, there are probably a 100 brands of wine being canned that are either doing state or national distribution. I imagine that market will still continue to grow."
For more information on Dear Mom Wine visit their website at DearMomWine.com, or look for them at liquor stores, restaurants, and other retail locations in 23 states and counting. Their four-packs are also available to order direct from their online store. For more information on how PakTech handles can help your winery succeed, contact us today.