We at PakTech are proud of our recycling program. Alongside with our 100% recycled plastic packaging solutions, the recycling program supports our commitment to sustainability. These initiatives have helped us repurpose the equivalent of over half a billion (644,203,483 to be exact) discarded milk jugs, keeping roughly 83 million pounds of plastic out of the waste stream. This is plastic that wasn't sent to a landfill (or the ocean), but was instead repurposed, often multiple times!
We couldn't do any of this though without our partners. From the consumer drop-off partners plus the consumers who recycle, consolidators who collect used handles, and reprocessors who transform them into new products, it's our partners who help make sure the 100% recycled plastic within each PakTech handle is recycled and repurposed again and again.
Here are some of the ways our partners are helping to make PakTech's recycling program a success.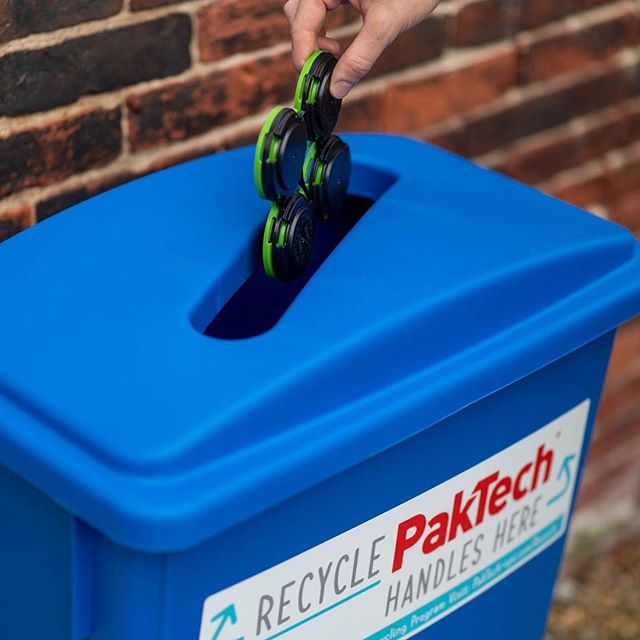 Drop-Off Locations & Partners
Breweries, grocery stores, liquor stores, and other retail locations form the backbone of the PakTech recycling program. Search our drop-off locator and you'll find hundreds of locations available for consumers and businesses alike to drop off their PakTech handles for recycling. This is the easiest way to get involved with our recycling program, and every partner that joins ensures hundreds of additional PakTech handles will be recycled and repurposed into new products each year.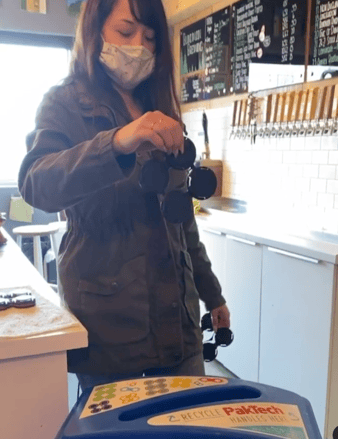 Take Blindman Brewing of Lacombe, Alberta. They joined the PakTech Recycling Program recently, becoming a drop-off location. Being good environmental stewards is important to them, which is why they decided to join the recycling program to help make a difference.
"There's something special about the circular nature of people in Alberta recycling their milk jugs, which are then turned into the PakTech handles that hold their favorite beers, and then they recycle those which are turned into even more PakTech handles," said Kirk Zembal of Blindman Brewing. He went on to say, "People care about recycling, and are disheartened with some of the news around it—but we want to help remind people that high value plastic is very recyclable and here's a way to do it."
That's why Blindman Brewing decided to take the next step, and become a consolidator. They'll be collecting PakTech handles far and wide in their home province, with big goals in mind. "We think, with a little will and great partners who are willing to invest their time and effort, that we can recycle PakTech handles from all across Alberta."
Community Consolidators
When it comes to consolidators who are trying to make a difference, the team at Blindman aren't the only ones. In fact, you don't even need to be involved with the food and beverage industry directly to get involved. Take the story of Walmart's Stephanie Garman Hackmann for example.
In partnership with Walmart Sustainability Resources, Stephanie acts as a consolidator liaison to distribute PakTech bins and educate local breweries about the program. Thanks to her efforts, 10 businesses in the Fayetteville, Arkansas area have become involved in the program. This has had a huge effect on recycling of PakTech handles in the area, and it has been enormously rewarding for Stephanie as well.
"To me, it means that the handles my house goes through each year are now being recycled and not landfilled," said Stephanie. "And not only that, a large portion of our community's handles are also being recycled. I've been able to see others bringing in bags of handles to their local brewery for recycling and it puts the biggest smile on my face. They don't even realize the person responsible for getting this program set up is having a beer a table away."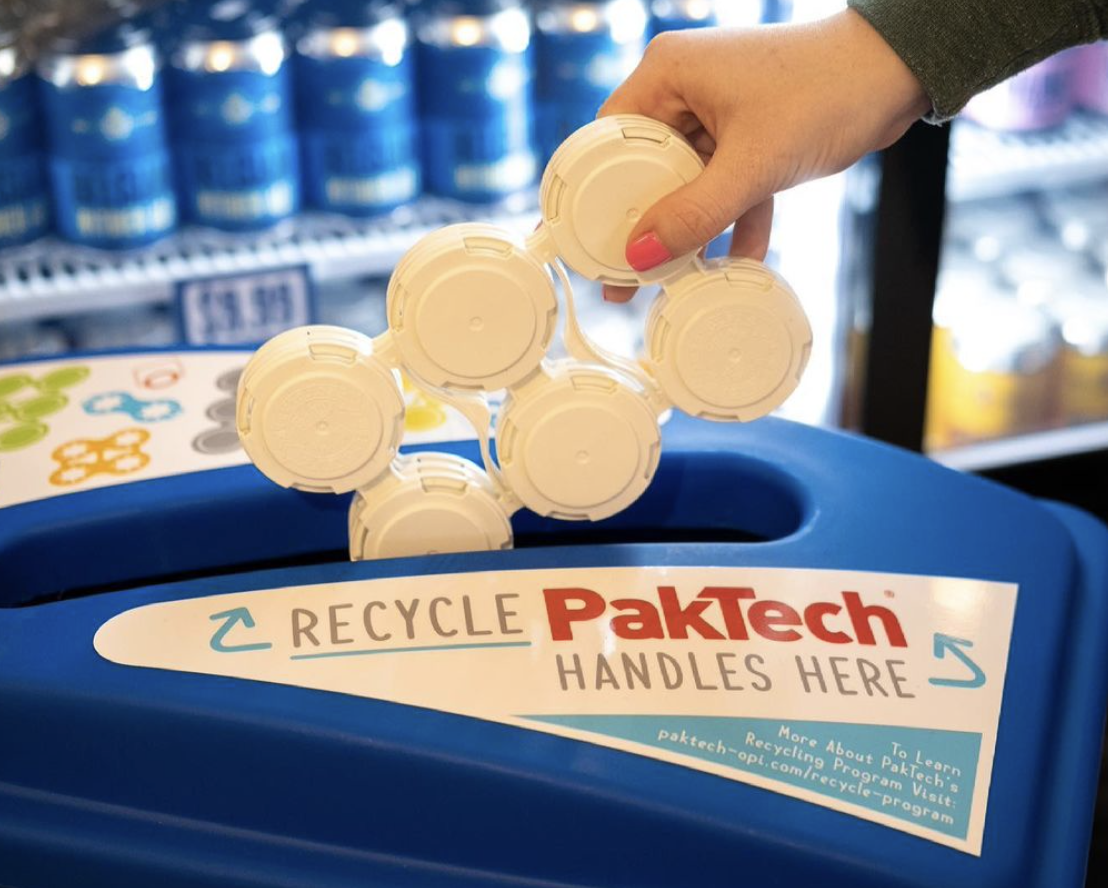 Stephanie went on to share the credit with others. She said, "It has meant so much to me to have the enthusiastic participation by our local breweries and stores, the continued support of local and regional recyclers who are actually doing the work, and the involvement of the local press in helping share the message. They are all the real heroes in making one person's dream of creating less waste a reality."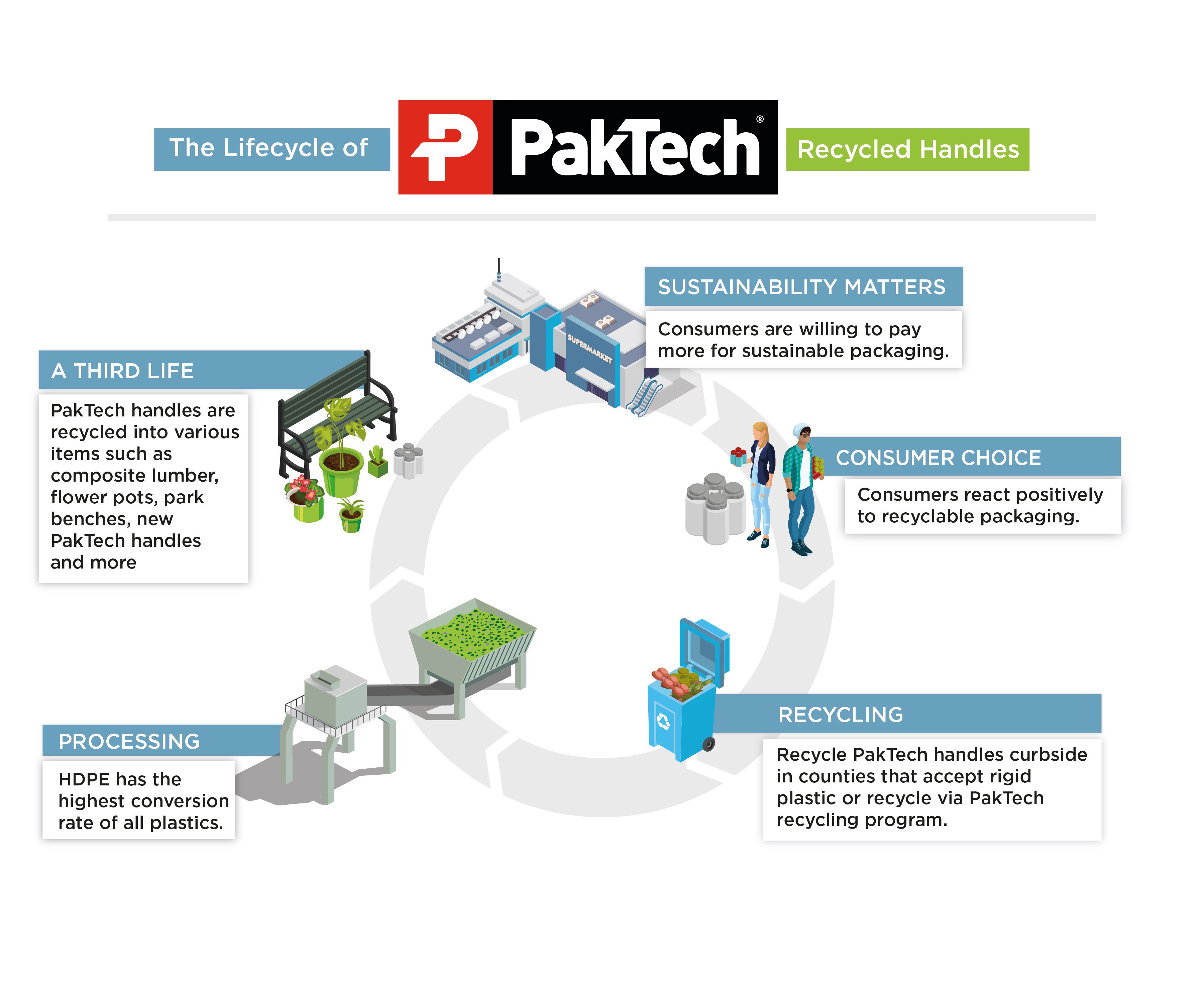 Reprocessing Handles For a Third Life (And Beyond)
When it comes to partners who are helping make a circular economy come to fruition, look no further than The Broomsmen. We always imagined PakTech handles being reused to create new products such as park benches, pots, and even new PakTech handles, and it's people like the team at The Broomsmen who are making that happen.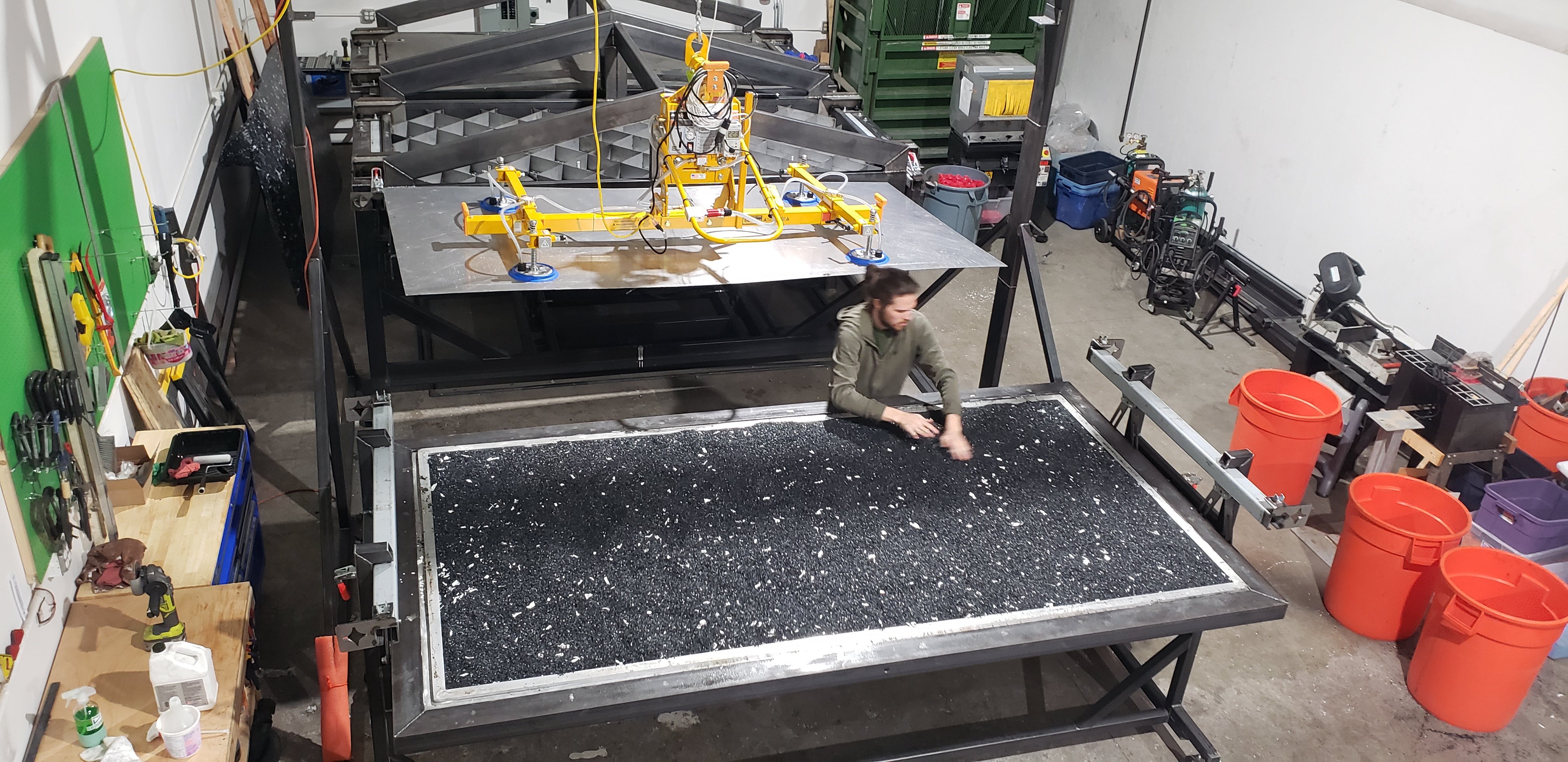 They've been active in PakTech's recycling program for two years, and regularly collect used handles from all of Central Oregon's major breweries. When we spoke to The Broomsmen co-founder Phil Torchio, he emphasized what being part of the PakTech Recycling Program means to him and his company.
"We are building an organization based on the manufacturing value of recovered PakTech," said Phil. "We believe together we can revolutionize the plastic manufacturing industry by locally producing high value recycled products that tell a story. Waste is just a misplaced resource. PakTech's program proves that."
In addition to using recycled plastic to make a product we've long envisioned—planter pots—The Broomsmen team is reprocessing PakTech handles and creating high end decorative panels for the furniture and architectural industries. "We use PakTech because of the cleanliness and the vast color selection of the material," said Phil. He went on to say:
"It should be noted that this is the third product to be made from this plastic (Milk jug, PakTech handle, Panel). There is a common misconception that plastic can only be recycled "once or twice" before it ends up in the landfill. We are proving plastic can be highly sustainable and offers a much lower carbon footprint than other claimed "green" or "biodegradable" products. The key to the story is how you utilize the stored value in plastics. This is a story that needs to be told!"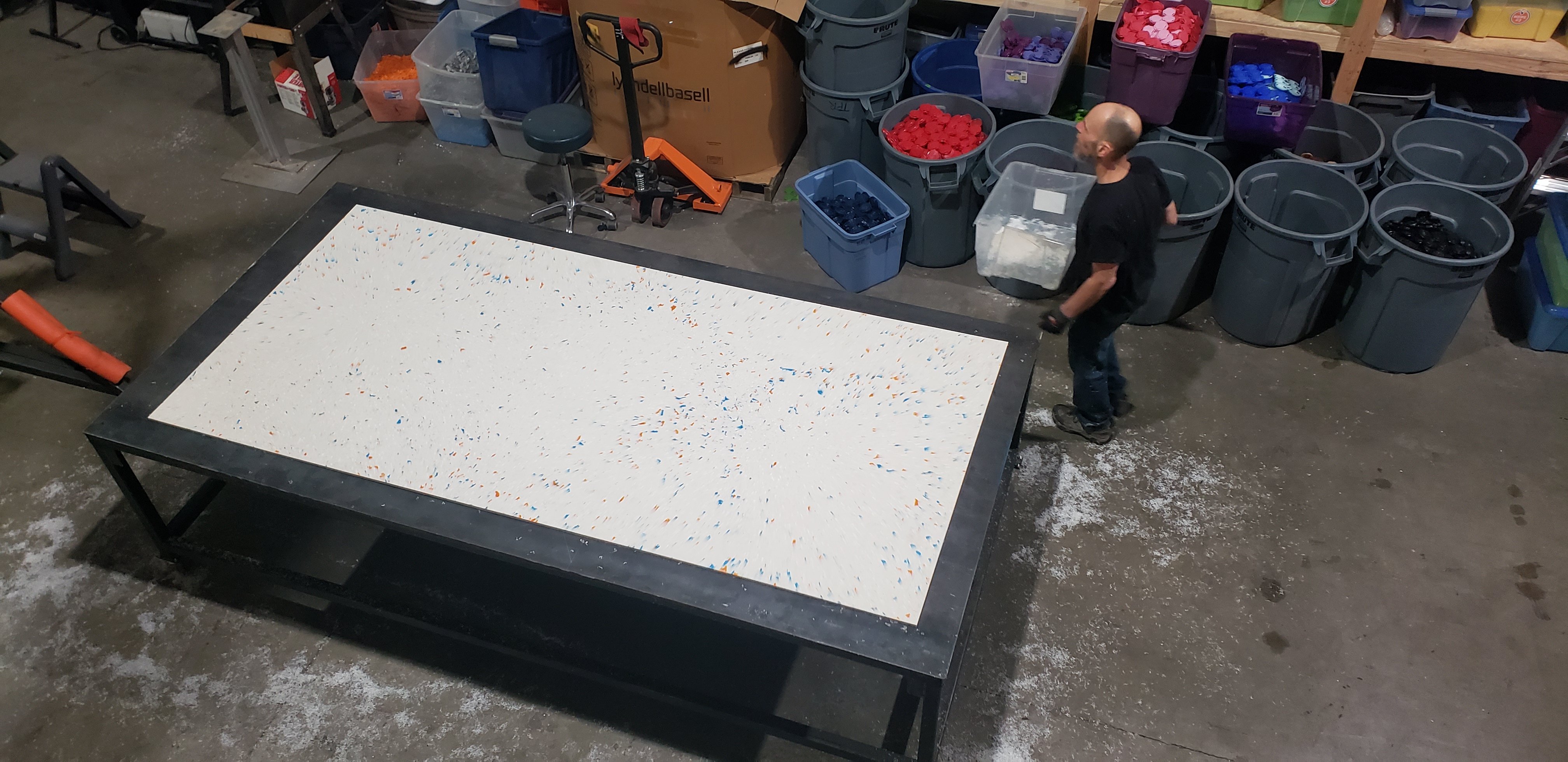 A Recycling Story Being Told
We agree with Phil, Stephanie, Kirk, and our other partners. We think it's vitally important to our planet's future for all of our natural resources, plastic included, to be used and reused thoughtfully. That's why we launched the PakTech Recycling Program, but without our partners—as well as all the consumers recycling—we wouldn't be able to make it a reality.
Interested in joining the over 500 organizations involved in the PakTech Recycling Program? Learn how to become a partner and fill out the Recycling Participation Form to join the club. And if you have some PakTech handles in need of recycling, visit our consumer drop-off locator to find drop-off locations near you.