For most businesses, PakTech handles mean more than a new way to package multi-packs of juice, beer, cider, soda, and other consumer products. It means operational changes. It means PakTech Applicators, machines specially designed to integrate with existing bottling or canning lines and apply PakTech handles smoothly and efficiently.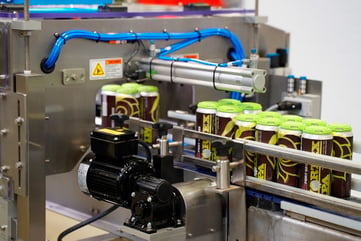 But what's it like to actually own and operate a PakTech Applicator? From ordering and installation to operation and maintenance, if you've ever wondered how integrating a PakTech Applicator into your business would actually work, this article is for you. We sat down with PakTech's Applicator Unit Manager Jeremy Pond and Applicator Engineering Manager Stephen Snider to walk you through each step of the process.
Ordering
There are many models of PakTech Applicators, and upon ordering, each one is tailored to your business. It starts with a thorough ordering process that scales with the complexity of the machine. For smaller machines, such as the CCA120/180, PakTech's sales team works with you to fill out a configuration sheet, which the Applicator team uses to start the build process. These configuration sheets help us customize your machine for your needs, including orientation of the machine, what voltage your facility uses, and any change or spare parts to be included with the initial delivery.
For faster and more powerful machines, there are more options available. While our CCA lines have a set of standard customizations around can type and height, for an MPA our customization is driven by your container and packaging scheme. Configuration sheets are still used, and the Handles team is consulted to decide how best to apply your chosen handles. Our team might go back and forth with you several times, including calls and virtual meetings to ensure everything meets expectations, before we ever start to design it. Then, we are in frequent contact during the design and build process, so you're never left in the dark.





Delivery
Delivery depends on the machine. CCA machines typically ship in a treated wood crate with any optional change parts or spare parts included. MPA machines ship on a dedicated truck to your location. These larger machines will be on custom wood skids with removable forklift tubes to help place it on the line. In addition, our Applicator team often works with the Handles team to ship boxes or pallets of handles along with the machine, so you will be up and running as soon as installation is finished.
Installation
Installation is most often done in cooperation with a line integrator, who helps to physically add the Applicator to the line. Once the machine is in place and attached to utilities, we have a field service technician on site for setup. Each machine is inspected to make sure nothing was damaged during shipping, and any change parts are installed. Once everything is in order, the field tech methodically starts up the Applicator.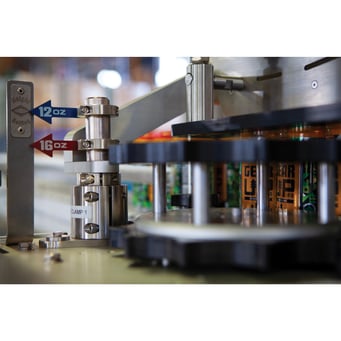 As for how long our field tech will be on-site, it depends on the machine. Techs might be needed for as little as one day for a CCA120/180, or a week or more for MPA30i Flex or dual-machine installations. What's important is that our field service team has over 30 years of experience with PakTech, and that they won't leave your location until you are satisfied with the setup and performance of your Applicator.

Operation
All 2020 PakTech Applicators have touchscreen interfaces. There are physical buttons on all machines built after 2016—for example, for emergency stops or safety resets—but standard operation is all handled through the touchscreen. When the operator starts the machine, instructions will appear on screen to prepare the machine to run automatically.
Once the machine is prepared, the operator can run it in automatic mode, and it will continue to apply handles to product until it runs out of handles or product. At that time, a message will pop up saying the machine is waiting. Once the operator refills the handles or starts sending more product, it will resume application. The touchscreen makes it easy to understand what the machine is doing, what it needs (if anything), and how to control the speed or change other settings.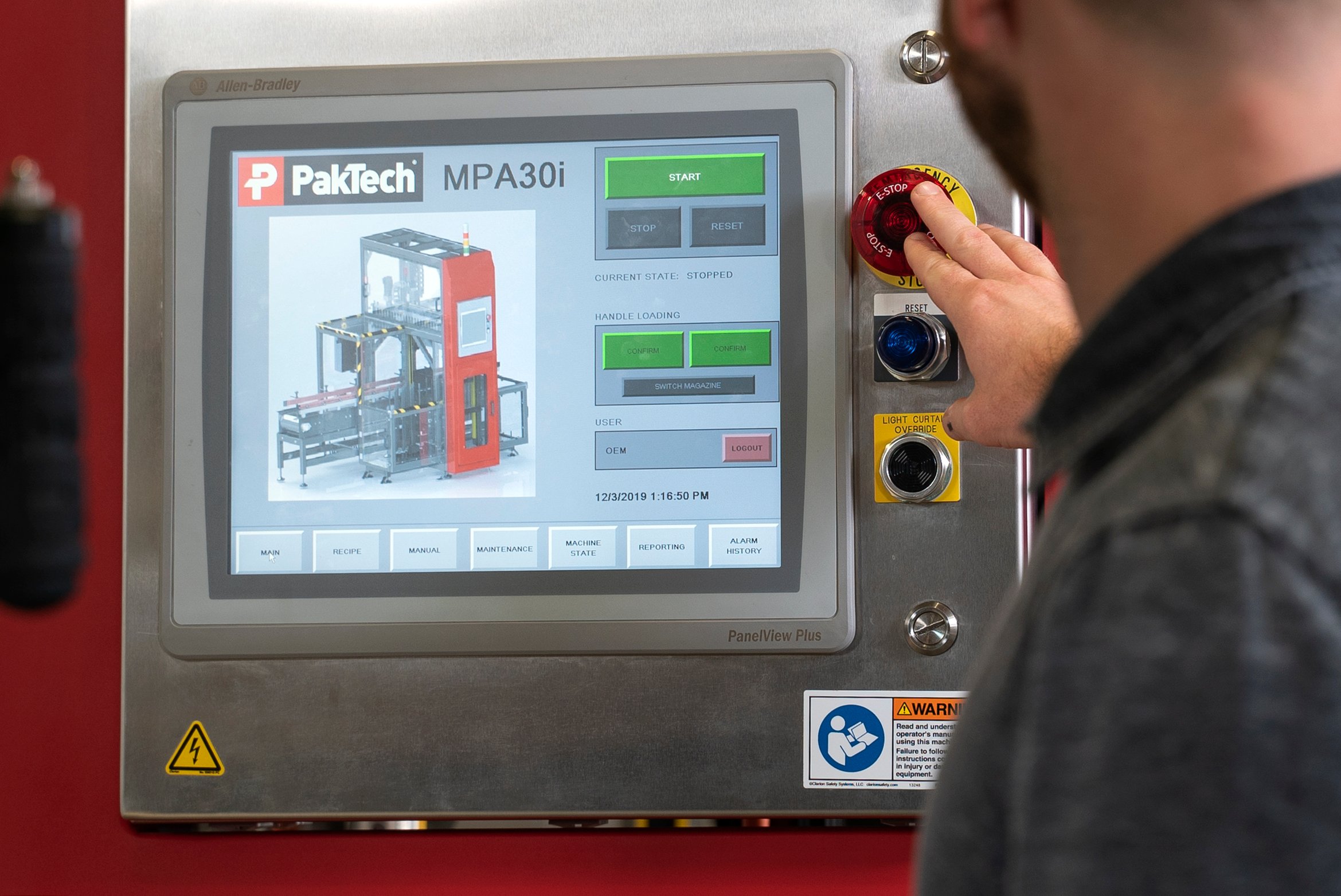 Operator Requirements
Applicators can be operated by anyone who has some training on their use. The operator doesn't require any particular education or skillset, other than being able to read and understand what is displayed on the touchscreen. Operator manuals (both electronic and hard copy) are also provided, which contain instructions and common troubleshooting.
We also provide on-site training during installation. Our field service technicians train your designated operator(s) and ensures they know how to load, run, troubleshoot, and maintain the machine.
Troubleshooting
PakTech Applicators are designed with safety as our first priority. That's why the default behavior when an Applicator has a problem is to stop operation. Depending on the issue, it could be just waiting for more materials, or it could be a complete machine abort that requires a reset command after the issue is resolved. Resetting the machine requires two actions, so it cannot be done accidentally.
Either way, the touchscreen will display helpful messages telling the operator what's going on. Larger machines may have a tower light that changes colors or a horn that beeps to alert the operator as well.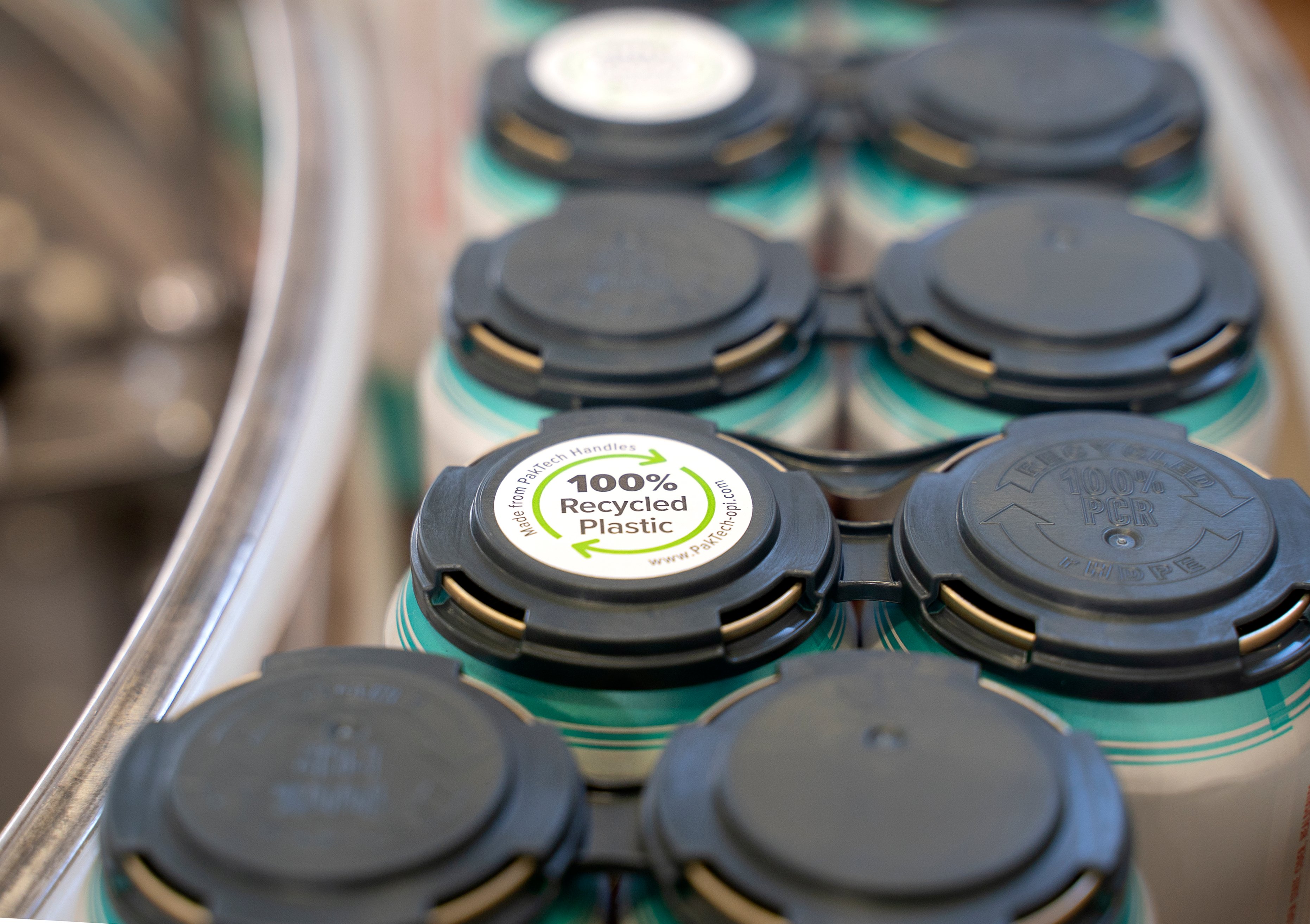 Maintenance
Maintenance differs by machine, but it mostly comes down to keeping the moving parts clean and lubricating the few components that need it. PakTech Applicators are built to have long service lives, so everything is designed to be as simple as possible. There are a few wear parts on some machines that need to be replaced from time to time, and we always provide a list of recommended spare parts and detailed instructions. Most maintenance can be accomplished with standard hand tools and basic mechanical ability.
Repair
Applicators are built with ease of repair in mind. While we encourage our partners to contact PakTech to get exactly the correct replacement parts, we strive to use common components and fasteners, many of which can be sourced locally or through common online vendors if desired.
If a machine requires repairs that are outside of your teams' skillsets, we offer field service maintenance and repair. For instance, we can use remote access tools to troubleshoot the Applicator software, and we're always available by phone, email, or video chat for remote support.
Applicators In Action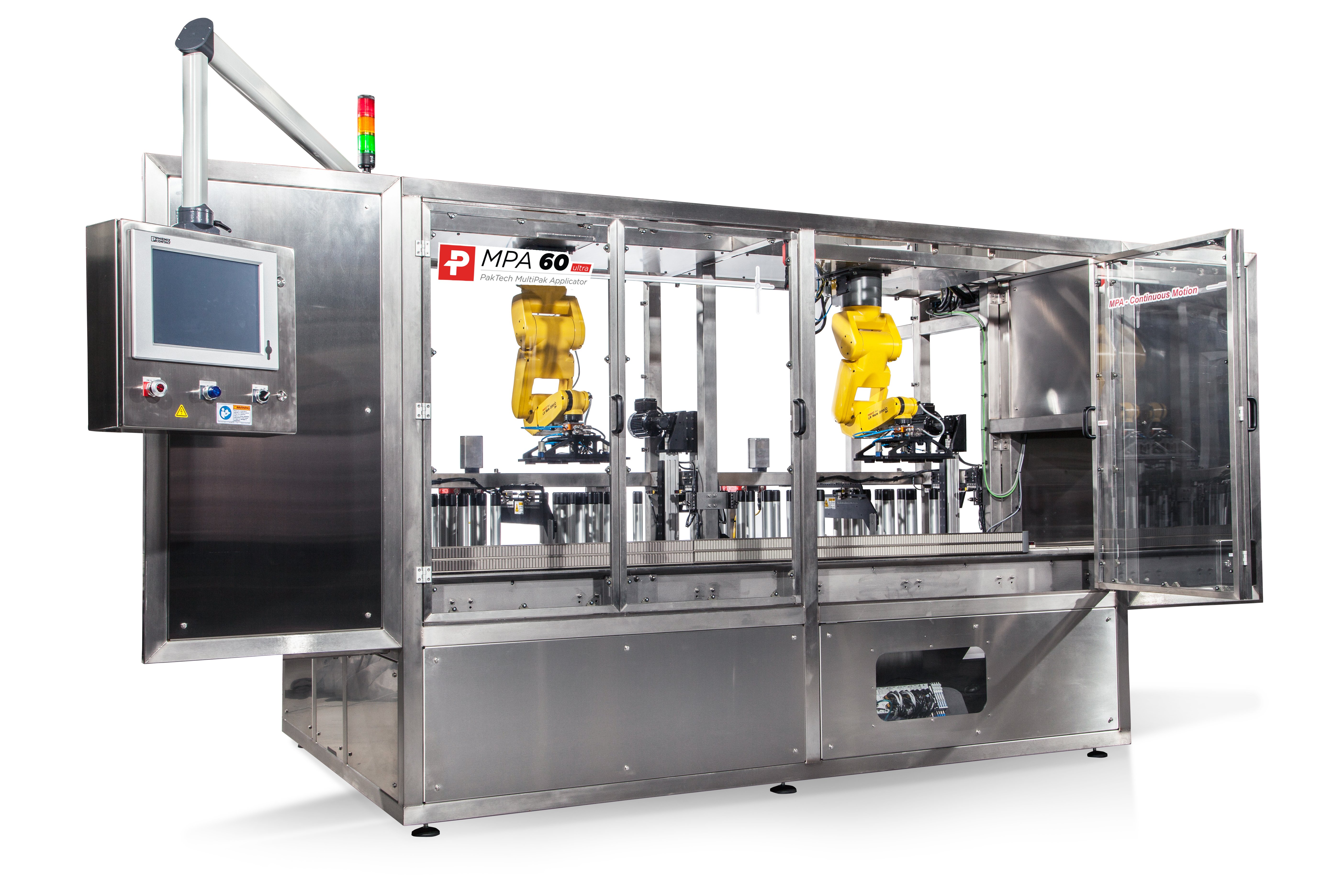 ---
When asked if they had anything else to tell potential Applicator owners, Jeremy and Stephen had this to say: "Our Applicator team consists of an engineering department with nearly 25 years of PakTech experience, and our manufacturing team has over 50 years of experience. The engineering and manufacturing teams work closely together to ensure customers' machines are built to the highest standards, and that they are satisfied and supported in their operation."
---
We couldn't have said it better ourselves!
If you have other questions about what it's like to own and operate a PakTech Applicator, please call us at 541.461.5000 or email us at handlesales@paktech-opi.com. We'll be happy to walk you through the whole process and answer any questions you have.